Frequently Asked Questions

1. What is Solder Master & what are some of the features?
Solder Master is a Lithium-Ion battery operated rechargeable soldering iron.
The switch is a momentary one meaning it needs to be pressed and held down to operate but there is also a BOOST mode. When the iron is hot and the button is released a further single press will give the tip a heating BOOST for 25 seconds. This means you don't have keep the power button continually down.
There are 3 selectable temperature settings, Lo/Mid/Hi (480C, 520C, 570C).
A LED work light.
4 stage charge status indicators @ 25%, 50%, 75%, 100% of battery life.
Solder Master is supplied with a silicon lined cap. This cap can be put on even while the tip is hot and provides excellent protection to the tip.
Solder Master comes as a kit with the iron and all accessories inside a carry case. Custom cut EVA inserts will hold all parts in place.
2. What about the cells inside?
Solder Master uses 4 high quality Panasonic Lithium Ion Cells to give you 14.4V - 3.45Ah - 50Wh.
3. How long does a Solder Master last from a single charge?
Run time is approximately 160 minutes on High and 270 minutes on Low. So that's a good month of soldering (based on a dwell time of 20 seconds).
4. How is this possible when other rechargeable irons can't last that long?
Solder Master has been designed in Australia by experienced battery engineers that understand Lithium-Ion performance. That along with our unique breath structure tips give you soldering times not seen with other soldering irons.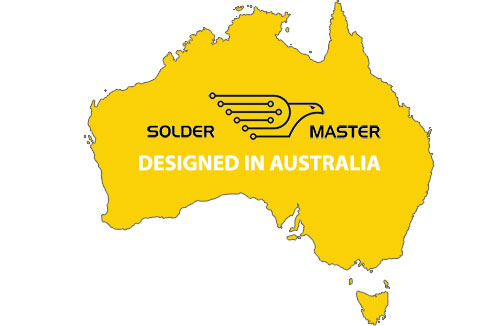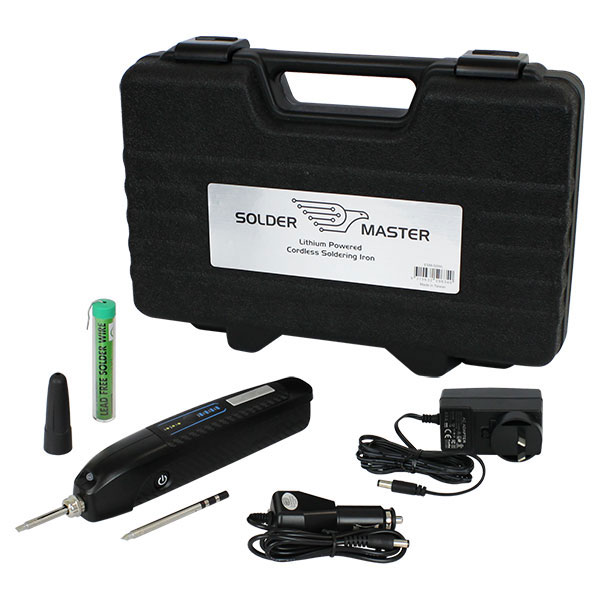 5. The kit looks great, what's inside?
Other than the Solder Master iron the kit contains: 1 x silicon lined Cap – 2 x 4mm tips – 1 x AC charger – 1 x DC charger – 1 x 15 g sample tube of lead-free solder.
These are all included in the sale price.
6. When I open my new Solder Master kit, the iron doesn't work! Why?
All Solder Master irons are shipped in 'sleep' mode for safety. To 'wake up' the iron simply plug into either the AC or DC charger plug supplied (and turn on) and the Solder Master is immediately 'awake'.
Sleep mode draws nothing from the batteries and is good for longer term storage without discharging cells.
You can put the iron back into 'sleep' mode by holding the temperature button down for 7 seconds. This mode can be used for storage or when travelling.
7. What about the tip sizes?
2 x 4mm chisel tips (WQD-4D-M) come with each kit.
From mid 2021 each kit will include 1 x 0.5mm pointy/conical tip (WQD-2B-M) for finer work and 1 x 4mm chisel tip.
Tips are available, for sale, as an accessory.
8. Is the heat up time really sub 10 seconds?
Yes, tests on the 4mm tip show solder melting at 8-10 seconds.
Tests on the 0.5mm pointy/conical tip are a couple of seconds slower with a melt time at approximately 11-12 seconds.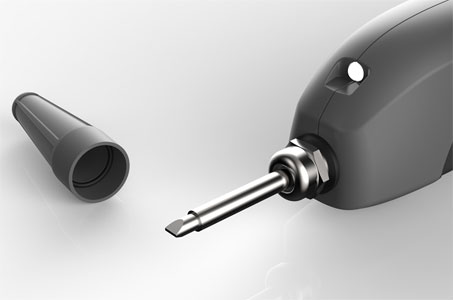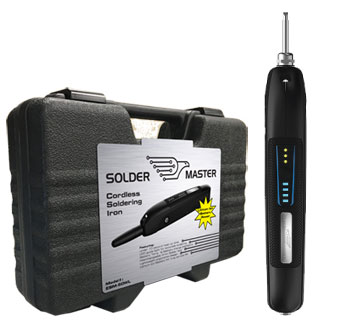 9. What is the warranty period?
Solder Master has a 2 years warranty.
The tip warranty is 3 months.
10. Can the Solder Master iron be easily serviced or fixed if there is a problem?
Yes. Solder Master can always be serviced once returned to your distributor. Also, all of the parts are available as 'spares' should they become damaged or lost.
11. What material is the Solder Master iron made from?
The Solder Master iron is made from fire retardant PC + ABS to UL94 V-0 rating with a carbon fibre texture look.
12. Who typically would use a Solder Master?
Typical users are:
Auto Electricians (car, truck, caravan, trailer)

Onsite Engineers
Electronic repairers
Telco's / jumper runners

Air conditioning

Marine installers.
Because it is so simple to use anyone without much experience can easily use Solder Master.
Basically, anyone that needs to solder.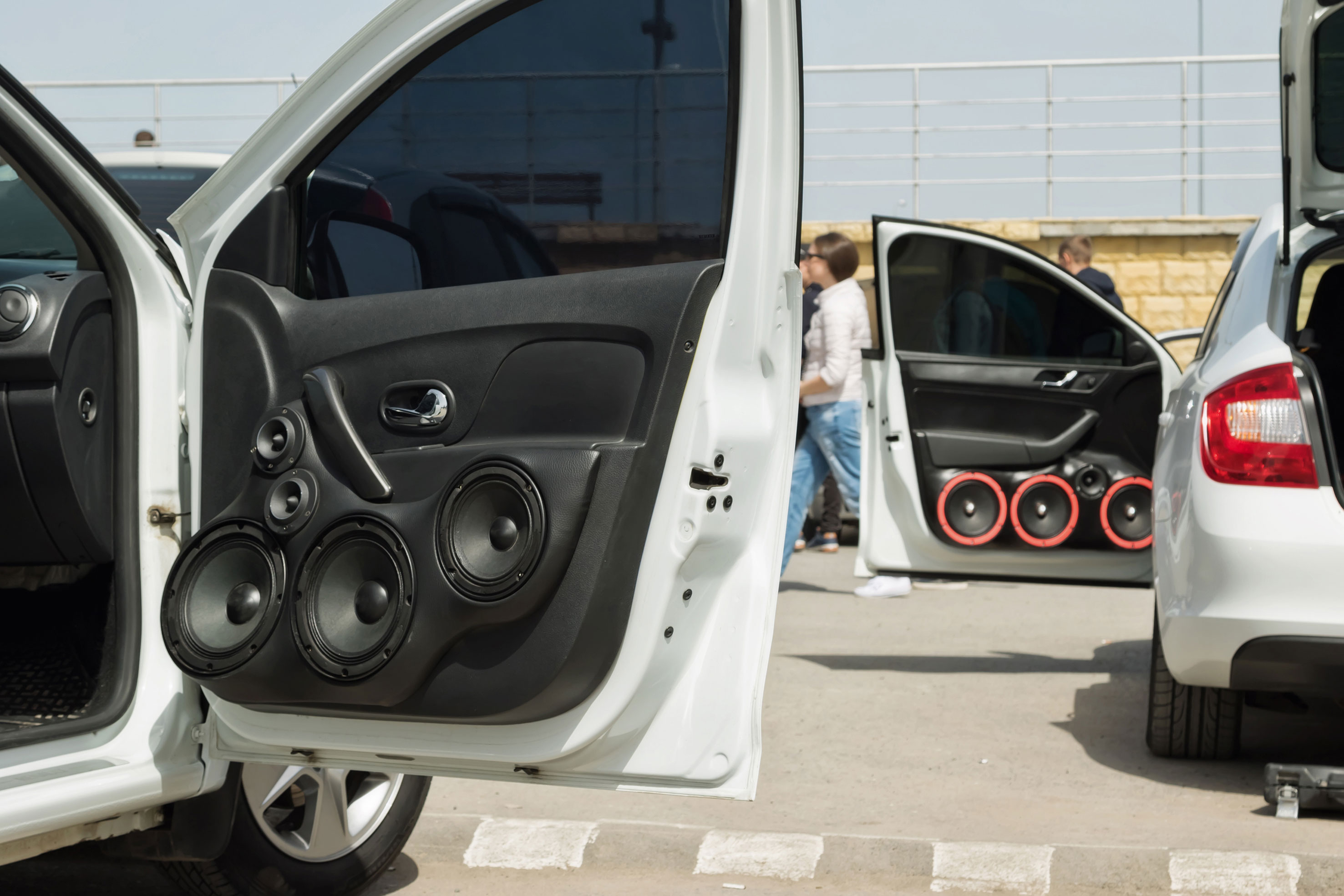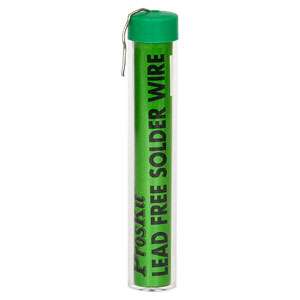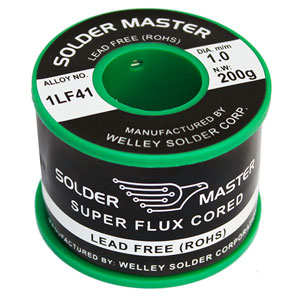 13. Any other accessories available?
The sample solder tube that comes with the kit is also available for sale. Click here for more details 9SN-310G.
In addition, there is a 200g roll of lead-free solder branded as Solder Master Solder. Click here for more details 1LF41-200G.
There is already a cut-out inside the kit to house this roll.

Tips: Bevel/Chisel type and conical type.