About Solder Master

Solder Master was born out of an idea that there must be a better cord-free soldering iron that can perform hundreds of solder joints with decent low AWG wire looms.

We could not find one on the market so we put our heads together and designed and created what we believe is to be the best cordless soldering iron on the planet.

Things we did not like about the other cordless "toy irons" on the market were :-


Butane Gas Driven. Issue in hazardous or windy environments.


Too expensive.


Not a genuine value for money professional tool and not a hobby DIY toy.


Use Non-Rechargeable Disposable Batteries. Not environmentally friendly.


Not enough battery power (Wh) = run time = amount of solder joints.


Needed to see in darker areas such us inside automotive/marine tight spaces.


Took half a minute to heat up to soldering temperature.


Not really ergonomic to handle.


No Indication of how much battery life or gas is left.


No temperature control = burning out solder tips.


Robust solder tips that heat up in under 10 seconds.


Ability to solder 6 to 30 AWG wire sizes.


Easy to charge and last between charges.


No "sleep" mode so constant drain on the battery inside.


Tips did not have a "breathe" hole design.


Contact between iron and tips being poor.


No BOOST function for quick re-heat.


Battery chargers that were just tweaked power supplies overcharging batteries reducing life.


Unsafe and painful to use.


Made of real toy like low cost plastic.


Using OLD battery technology NOT giving maximum energy density for size/footprint.


Not using the highest quality Panasonic LiIon cells & protection circuit module with built-in safety for the user.


Undesirable Design & Look.


Warranty periods were too small.


Easy availability of spare parts and support.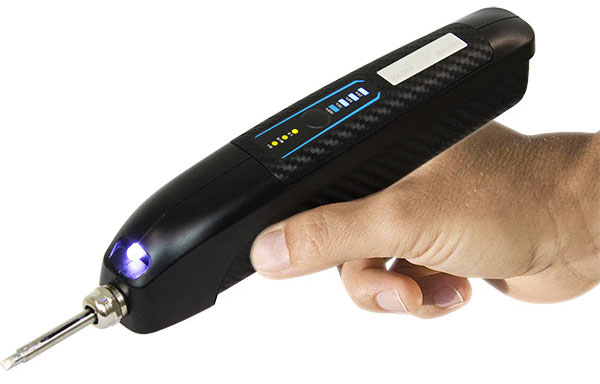 So after realising what we did not like, being portable power experts and a battery engineering company we turned to designing and engineering a 50Wh 14.4V (4 LiIon cell) battery into a state of the art professional tool.
Ideally this iron would be just as home in a battery assembly line as it would be to a telco jumper runner, solar integrator, car audio installer, marine or auto electrician.
And so "Solder Master" was born and the rest is history.
We invite you to try one out and if you are not satisfied with Solder Master's performance, then we have failed in our quest to get you the best iron on the market. We cant see that happening anytime soon.
Solder Master Irons are now sold & distributed all over the globe and have received glowing reviews and testimonials.